Inactive listing. This title is classified as "inactive" in our database. The below information is likely out-of-date.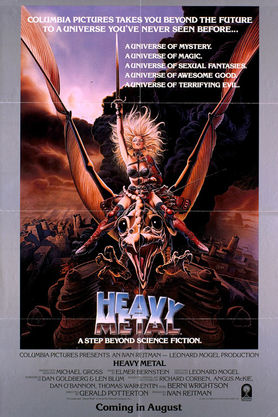 Heavy Metal
Directed by Gerald Potterton
1981 • R • English • 90 min.
If for no other reason, Heavy Metal is a groundbreaking animated film because it was aimed at adults (or at least teenagers) at a time when basically all other American cartoons were strictly kid stuff. It was based on the not-for-kids Heavy Metal comics magazine which was itself based on the French magazine Métal hurlant, so its "R" rating was just due to the movie being true to its roots. Also the film's producers took the title seriously and recruited several notable rock and metal musicians to contribute to the soundtrack, including Black Sabbath, Blue Öyster Cult, and Cheap Trick.
Cast: Richard Romanus, John Candy, Joe Flaherty